DAM REMOVAL & REHABILITATION
REMOVE OR REHABILITATE DAMS SAFELY
Flyway Excavating is an experienced dam removal company with a large portfolio of projects. In fact, of the approximately 400 dams that have been removed in Pennsylvania over the last 25 years, we removed nearly 100 of them (including this one at the Van Reed Paper Mill in Reading)!
Addressing unused or unsafe dams is a complex undertaking, but Flyway has the depth of knowledge, the latest technology, and the best equipment to tackle these projects with ease. Our team of highly trained professionals constantly strives to exceed the standards for safe, efficient, and successful dam removal and rehabilitation.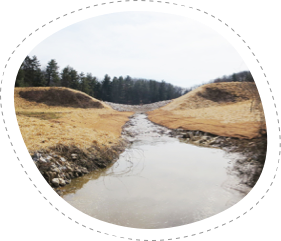 DAM REMOVAL & REHABILITATION SERVICES
Flyway knows there is more to dam removal than simply tearing out the dam itself. Our capabilities are extensive, consisting of a wide range of dam removal services and rehabilitation solutions.
​Sediment Management
Flyway understands the critical role of sediment management in maintaining healthy aquatic ecosystems. Our expert team assesses the quantity and composition of the sediment involved, and we create strategies to remove or release it in ways that allow gradual changes to the waterway ecosystem and minimize the impact on downstream water quality.
Fish Passage Construction
Maintaining aquatic biodiversity is essential for the health of waterways, which is why we specialize in constructing passages to allow the free movement of fish. Our fish passage solutions include step pools, bypass channels, and ramps, which allow fish to move through or around dams safely. This opens up previously inaccessible areas, allowing aquatic life to truly thrive.
Hydrological & Ecological Restoration
Flyway Excavating offers comprehensive hydrological and ecological restoration services. Using cutting-edge technologies and in-the-field expertise, we work to restore natural water flow patterns, improve water quality, and re-create riparian habitats. With strategic planning and implementation, we aim to restore natural hydrological conditions and enhance overall ecological functions.
Structural Rehabilitation & Safety Upgrades
Understanding the importance of the durability and safety of existing dams, Flyway specializes in structural rehabilitation and safety upgrades of dam components. We carefully assess the condition of spillways, gates, embankments, and foundations to determine which areas require repair or reinforcement to meet modern safety standards, mitigate future risks, and extend the life span of a dam for the sake of the local community and the area's natural ecosystems.
Erosion Control & Stabilization
Erosion creates substantial problems, including habitat loss, sedimentation, and poor water quality. As an experienced dam removal company, Flyway analyzes erosion risks and then provides erosion control services (such as armoring or vegetation planting) and solutions to stabilize the dam and surrounding areas to prevent erosion-related failures.
REMOVE OR REABILITATE DAMS SAFELY
Flyway Excavating proudly provides technical expertise in dam removal services, but we also hold tightly to our commitment to customer service. We go above and beyond to exceed expectations, which has allowed us to become one of the leading dam removal companies in the Northeast. Whether providing expert guidance at the start of a project or continued support upon its completion, we are happy to assist our clients throughout the entire process. This commitment to personalized service and unparalleled expertise has helped us build a strong reputation for excellence in dam removal and rehabilitation.
OUR EXPERIENCE IN DAM REMOVAL
Flyway Excavating is your go-to company for dam removal services. Dam removal and rehabilitation are complex projects, so it's important to work with a partner that has the know-how, technology, and equipment to do the job right. We care deeply about protecting the environment and improving our waterways, which is why you can trust us to deliver remarkable results for your dam removal project.
To see just one example of our work, check out the Kehm Run dam removal. Or, if you're ready to get started on your own project, contact us today.