DAM REMOVAL & REHABILITATION
REMOVE OR REHABILITATE DAMS SAFELY
Degraded dam structures can create an unsafe environment. If you're dealing with an unused or unsafe dam, Flyway Excavating is the company to call for dam removal or dam rehabilitation. We have the expertise and modern equipment to get the job done right, and our personal service is second to none.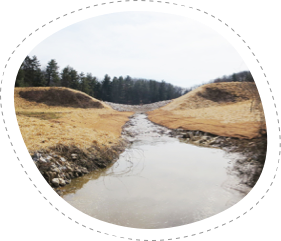 OUR EXPERIENCE IN DAM REMOVAL
Few firms in Pennsylvania have Flyway Excavating's depth of experience in removing dams. We've completed nearly 100 dam removal projects in the last 25 years, and we understand that there is much more to this type of project than simply tearing out a dam. Important steps must be followed.
Flyway has ample experience in notching sequences and using existing facilities (such as drawdown pipes) to lower the water level in increments. These techniques prevent a large sediment plume and allow for gradual changes to the stream ecosystem. We are also very familiar with the complex permits and erosion and sediment plans required for dam removal projects. Flyway Excavating strives to meet and exceed these parameters every time.
Recently, the team at Flyway Excavating had the privilege of aiding in the removal of Van Reed Paper Mill Dam in Reading, PA. For an in-depth look at this project, we invite you to read the following blog.