BUILDING & MAINTAINING IMPORTANT INFRASTRUCTURE
Bridges and culverts are essential infrastructure items in many projects. With decades of experience, Flyway Excavating can handle every aspect of the job, from site supervision and excavation to careful installation and maintenance. We've completed many bridge and culvert projects, including pedestrian bridges, box culverts, CON/SPAN arch structures, and much more.
Flyway has a proven track record of successfully completing bridge and culvert projects on time and within budget. Our teams rely on cutting-edge technology and state-of-the-art equipment to ensure precision, efficiency, and superior results — which has helped us earn a reputation as an industry leader in the Pennsylvania.
Contact us today for help with your bridge or culvert project.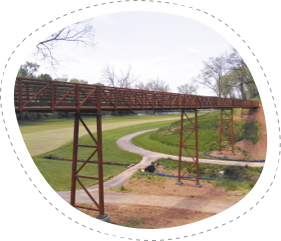 ​Bridge & Culvert Construction
Flyway understands the critical role of sediment management in maintaining healthy aquatic ecosystems. Our expert team assesses the quantity and composition of the sediment involved, and we create strategies to remove or release it in ways that allow gradual changes to the waterway ecosystem and minimize the impact on downstream water quality.
OUR CUSTOMER SERVICE
At Flyway Excavating, we're not only experts in the field, but we strive to provide superior customer service. We proudly support our clients through every phase of a project, providing necessary guidance, advanced expertise, and valuable communication every step of the way. We go above and beyond to exceed expectations, which has earned us numerous referrals from past clients and helped us become one of the leading companies for bridge and culvert installation and maintenance in the Northeast. When you team up with Flyway, you can be confident you have a knowledgeable partner guiding your project.
OUR EXPERIENCE WITH BRIDGES & CULVERTS
Flyway Excavating is your go-to company for bridge and culvert construction, inspection, and maintenance. Our team stays up-to-date on the latest methods and technology in order to exceed industry standards for building and preserving bridges and culverts in the Northeast. With our expertise, attention to detail, and commitment to delivering exceptional results, we are your trusted partner for projects of any scale.
Flyway is proud to protect our communities' infrastructure and provide personalized service to support our customers throughout the process. Contact us to get started on your next bridge or culvert project.