EXCAVATION, INSTALLATION & SUPERVISION
Bridges and culverts are essential pieces of infrastructure in many projects. Flyway can perform the necessary site supervision and excavation work, as well as the installation of bridge and culvert structures. Our experienced team will work closely with you to provide excellent customer service and ensure your bridge or culvert project is done right. 
Contact us today for help with your bridge or culvert project.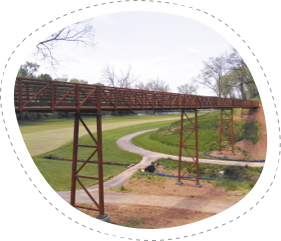 OUR EXPERIENCE WITH BRIDGES & CULVERTS
Pennsylvania infrastructure is in great need of repair, including its bridges and culverts. Due to their age and frequent large storm events, these structures are undersized and dilapidated.
Flyway Excavating has completed many of these types of projects, including pedestrian bridges, box culverts, CON/SPAN arch structures, metal plate arches, and box beam bridges. We have 30 years' experience in the removal and replacement of vehicular bridges and culverts up to approximately 60' spans and pedestrian bridges up to 180' spans.
Flyway is equipped to handle all aspects of these challenging projects. For bridges, we typically self-perform all the E&S (erosion and sedimentation) controls, water control, demolition, excavation, and culvert erection while hiring trusted subcontractors for structural concrete, cranes, paving, and landscaping.