ENVIRONMENTALLY CONSCIOUS EXCAVATION & CONSTRUCTION
We offer a wide range of excavating services to municipalities, colleges, and various commercial clients to prepare sites for the construction (or restoration) of buildings, parking facilities, roads, parks, and athletic fields. We can also handle electrical, pipe, and sewer trenching and installation.
Our team has decades of experience in excavation. We are conscious of taking care of our environment and always aim to leave work sites in better shape than when we first arrive.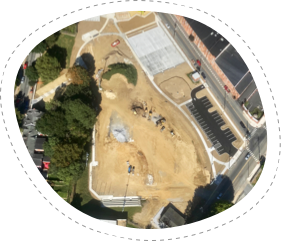 PARKS & ATHLETIC FIELDS
New or restoration work for playgrounds, ball fields, and other athletic arenas
PLAZAS & STREETSCAPES 
Excavating services required for the new construction or repair of plazas and streetscapes
PARKING LOTS & GARAGES
Providing excavating services for the installation or reconstruction of parking lots and garages
SITE PREPARATION
Preparing a work site for the next phase of construction
BUILDING EXCAVATION
All excavation needed for constructing a new building or remodeling an existing structure
ROAD CONSTRUCTION
Performing excavating services required for road construction
OUR CUSTOMER COMMITMENT
Customer satisfaction is a top priority for the entire Flyway team. As a smaller family-operated business, we work closely with our customers, get to know you and your project, and make sure we get all the details just right.
Contact us today about your excavation project. We look forward to working with you!