YOUR PARTNER FOR EXCAVATING & WATERWAY IMPROVEMENT
Flyway Excavating is a waterway improvement and excavating company serving the Mid-Atlantic region. For more than 30 years, we've partnered with clients on projects large and small to deliver a hassle-free and environmentally friendly experience. When you rely on Flyway as your environmental excavation and waterway contractor, you can be confident the job will be done right.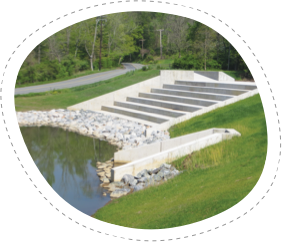 Restoring waterways to their natural state is our specialty. We are a waterway contractor who works with conservation districts, watershed groups, government agencies, engineering firms, and private property owners to improve and restore waterways to the way nature meant them to be. Our services include stream restoration, wetland restoration, water quality basins, dam removal, dam rehabilitation, and bridges and culverts.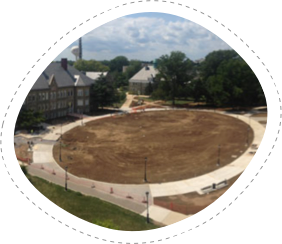 We are also excavating contractors, providing environmental excavation and construction services. We take care to work with our environment, not against it, and aim to leave work sites in a better state than they started in. Our excavating services include site preparation, building excavation, parking lots and garages, parks and athletic fields, road construction, and plazas and streetscapes.

You are our go-to guys for stream work period!
–
Mark Metzler, Group Manager/Sr. Environmental Scientist | Rettew Associates

Flyway is the clear choice for friendly, capable, and experienced staff.  The quality of the project was first rate.
–
Aaron Clauser, PhD | Clauser Environmental, LLC

Continued excellence in hitting the mark of what's expected from a great contractor and excellent operators; I know that when Flyway does a job for me there's little or no learning curve and I have peace of mind that things are being done correctly.
–
Dan Synoracki, Project Manager/Senior Environmental Scientist | Geo-Technology Associates Inc

The City's construction management and inspection staff has unwavering confidence in your company to reliably execute any project that you are awarded with the City, and trust you will do so with the highest level of customer service, professionalism, and quality standards that your company has always demonstrated to us, project after project.
–
Matt Metzler, Deputy Director of Public Works | City of Lancaster

 We always appreciate working with Flyway's experienced team. They're great to work with and we can always count on them to complete a successful project.  
–
Kristie Fach, Director of Ecological Restoration | Wildlands Conservancy    

I've found Flyway to be first-in-class when it comes to service, quality and professionalism. Flyway's honesty and integrity provide peace of mind that projects will get done on time and under budget, and any problems get addressed quickly and efficiently. 
–
Reid Garner, Water Resources Engineer | Landstudies

Flyway understands stream restoration, the end goals and is highly skilled and efficient with this work. It's clear that the staff enjoy and care about the work they do and take pride in the end result, They often contribute good ideas and solutions for field decisions that are frequently made.  They also plan ahead and are well prepared.
–
Brian Winslow, Watershed Conservation Director | Brandywine Red Clay Alliance

Flyway Excavating was great to work with from top to bottom. The project managers and field staff had great communication with each other, therefore there was no confusion throughout the entire project and everyone knew what they needed to do to complete the job as quickly and efficiently as possible.
–
Tyler Neimond | PA Fish and Boat Commission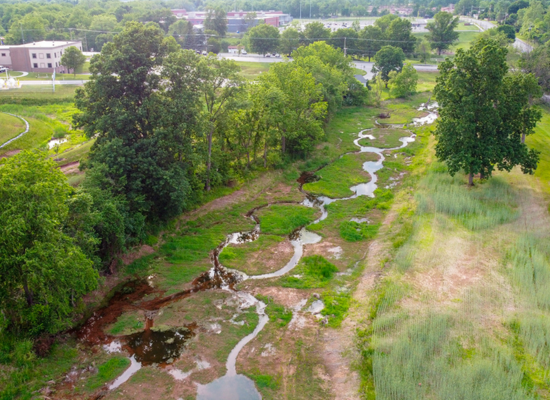 CASE STUDY: FOX RUN RESTORATION
A comprehensive floodplain restoration project of two tributaries to Fox Run in Dover Township, PA, the first phase of a plan to transform a former golf course into a township park.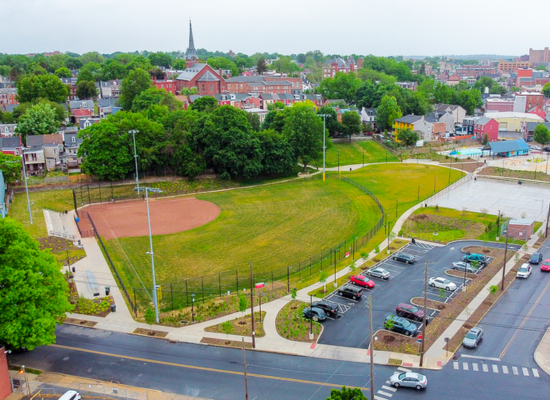 CASE STUDY: CULLITON PARK
The revitalization of a community gathering place in southwest Lancaster City, including a playground, pool, splash pad, softball field, and basketball courts.