MAINTAINING WATERWAY HEALTH
Waterways are vital to our ecosystem. Poor water flow, stagnation, erosion, and other issues are a huge concern for landowners, and without expert help, waterway restoration can seem overwhelming.
That's where Flyway Excavating comes in. Our expert team, state-of-the-art equipment, and years of experience can help with projects involving waterway restoration or creation, dam removal, dam rehabilitation, bridges and culverts, and water quality basins.
Over the years, we've worked closely with the Pennsylvania Fish and Boat Commission, Department of Environmental Protection, conservation districts, watershed groups, government agencies, engineering firms, and private property owners to return waterways to the way nature intended and keep them healthy for generations to come.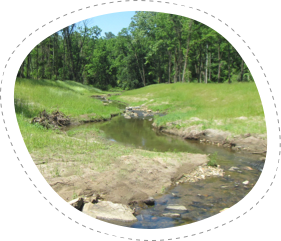 OUR WATERWAY RESTORATION SERVICES
STREAM RESTORATION
Helping to correct issues in streams, such as water flow, erosion, and poor habitat
WETLANDS RESTORATION
Restoring wetlands by addressing issues of stagnation and improving habitat
DAM
REMOVAL & REHABILITATION
Removing or rehabilitating degraded dam structures to ensure a safe environment
BRIDGES & CULVERTS
Performing excavation, structure installation, and site supervision for bridge and culvert structures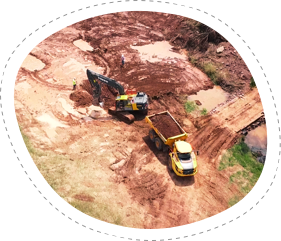 THE RIGHT TOOLS FOR THE JOB
We have more than 20 state-of-the-art machines to get the job done right, including:
6 excavators (30,000 lbs – 60,000 lbs) with hydraulic thumbs & hammers
3 mini excavators (10,000 lbs – 19,000 lbs) with hydraulic thumbs & hammers
2 dozers (31,000 lbs – 40,000 lbs)
2 backhoes with hydraulic hammers
2 triaxle dump trucks with rock beds
2 crawler carrier trucks (11-ton capacity)
4 mini track loaders with multiple attachments
Diesel trash pumps (4" – 8")
1
president with 25 years' experience in stream, dam & wetland work
1
project manager/estimator with a civil engineering degree & Rosgen training (levels I & II)
1
project manager/estimator with a civil engineering degree & who is a licensed professional engineer in Pennsylvania
3
project manager/estimators with up to 20 years' experience in stream, dam & wetland projects
3
equipment operators with MSHA quarry training required to pick & load rock
8
equipment operators with up to 25 years' experience in stream & wetland projects
6
field supervisors with up to 25 years' experience in stream, dam & wetland projects