RESTORING WATERWAYS TO THEIR NATURAL STATE
Poor water flow, erosion, loss of habitat, and other issues can lead to stream degradation. The waterway experts at Flyway can help with your stream rehabilitation project, no matter how complex. Our personal service and cutting-edge machinery will help make the process as smooth as possible.
Contact us today for help with your stream restoration project.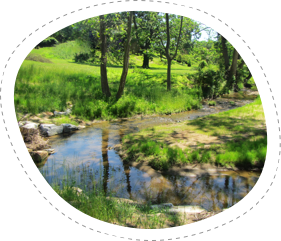 OUR STREAM RESTORATION EXPERIENCE
A challenging but appealing aspect of stream restoration is that every project is unique and allows for various solutions to a problem. Over our 20+ years of improving streams, we've had the opportunity to work with the Pennsylvania Fish and Boat Commission, Pennsylvania Department of Environmental Protection, and numerous watershed groups and engineering firms. Working with so many different individuals, we've gained a vast amount of knowledge on various stream restoration techniques.
Flyway's management takes initiative and regularly meets with the appropriate agencies, watershed groups, and design professionals during all phases of a project to discuss concepts and provide accurate cost estimates. We also realize that field adjustments play a critical role in this type of work. Thanks to our experience, our team promptly recognizes when a change is needed and works with owners, engineers, and regulatory bodies to come up with a practical solution.